Frozen Food
Fruit, vegetables and mushrooms bought directly from producers.
Frozen Food – Fruit Vegetables Mushrooms
Frozen Food – products of highest quality fruit and vegetables bought directly from producers. They are prepared from cleared, washed fruit and vegetables, preserved through deep freezing. Sorted frozen food undergoes laboratory evaluation each time and is packed in bulk packaging. We offer frozen fruit and vegetables of different quality and calibration.
Frozen Food
The information on our full offer of frozen food is provided by Sales Department.
Our special offer are ecological products. We hold BRC Certificate (Grade A). We apply HACCP standards.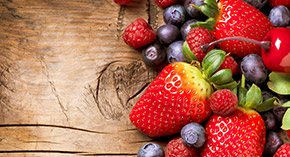 We offer frozen raspberries, strawberries, black and red currants, sour cherries, gooseberries, plums, chokeberries, blackberries and blueberries.